Day 2 :
Keynote Forum
Tufts University School of Medicine, USA
Time : 10:00-10:30 am

Biography:
Mark Pitkin has obtained his PhD in Biomechanics of Prosthetics from Institute of Prosthetics, Moscow, Russia, and a degree of Doctor of Technical Sciences from LETI University, St. Petersburg, Russia. He is Professor of Physical Medicine and Rehabilitation at the Tufts University School of medicine, Boston, MA, and President of thePoly-Orth International. He has published more than 90 papers in reputed journals.
Abstract:
A floating skeleton concept postulating a hydrostatic connection of the synovial capsules covering the joints was experimentally validated in a first controlled in vivo study. It was discovered that intra-articular pressure is transmitted between synovial joints in a space between the periosteal shell and the bones. Th is is in a contrast with a general convention about a joint capsule as an isolated container with in-joint pressure independent of the pressures in the other capsules. Biomechanical rationale for hydrostatic connection of the joints is a reduction of the pressures applied to the contacting surfaces of the bone heads for protecting the cartilages. This discovery has the potential to revolutionize our understanding of how the skeleton functions. Further analysis is required of morphology and physiology of the system of hydrostatic pressure distribution between contacting joint cartilages. Nevertheless, even before comprehensive knowledge about the new system is obtained, several recommendations for enhancing a paradigm of physical therapy can be developed now. We will discuss in this lecture how the fl oating skeleton concept suggests for a specific criterion of correctness of physical exercising in preventive and therapeutic practices.
Keynote Forum
Amazing Results, USA
Time : 10:30-11:00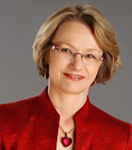 Biography:
Ulrike Berzau is an Executive Coach and Consultant, works with individuals, teams and organizations to achieve exceptional results. She has extensive experience as healthcare executive, received many leadership and quality awards and led 2 hospitals to being recognized with the Hospital of Choice Award, one even in the Top 10 in the nation. She is the Co-author of the international best-seller, "Imagine a Healthy You". She is a certified Passion Test Consultant. She holds a Master's Degree in Management, a Master's Degree in Health Science, Physical Therapy, and is a Fellow of the American College of Healthcare Executives.
Abstract:
How often have you taken the time to identify what truly matters to you, to your team and to your patients? As identified in the 2014 Gallup study, only 31.5% of employees are engaged. Gallup defi nes engagement as being involved in, enthusiastic about and committed to their work and work place. That leaves an organization running on 31.5% of its capacity. Imagine if only 31.5% of your heart would be working, how could you stay alive? Now is the perfect time to change your results through a proven process that aligns your team members' needs and goals with those of your organization. Learn about advanced solutions for activating passionate engagement to create alignment between the things that matter most to your company and the things that matter most to the employees. First, learn how to gain clarity about your program and service's unique contributions and core values. Once you are clear on what is most important, you can move through the invisible barriers that limit success. Th en, it is time to bring what matters most to your patients in the center of the decisions and choices. Reflect, rethink and build your services around that to boost patient engagement in their care and to achieve exceptional outcomes.There is a secret to create whatever you choose in life – this applies to you, your team and your patients. Find out how you can achieve more success and be the catalyst for inspired actions to realize exceptional results, health and wellbeing.